Posted on
Social Work Week March 6-10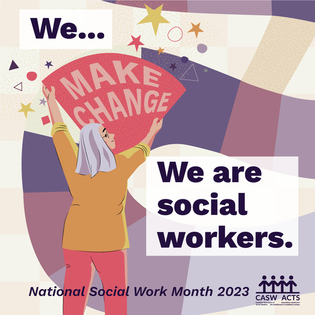 Wolf Creek Public Schools recognizes Social Work Week March 6-10. Join us in taking time to celebrate the positive impact that social workers have on students and schools in our communities. 
School Social Workers are essential to the students, families and staff they work with.  School Social Workers support people in navigating complex systems while providing key services and programs. 
"Every day, the school social workers commit themselves to helping some of our most vulnerable students," said Barb Reaney, WCPS director of safe & caring schools.
"School social workers carry large caseloads and are witness to trauma on a daily basis. As a result they can carry a heavy weight that doesn't go away at the end of the workday. This makes them particularly vulnerable to compassion fatigue, burnout and post-traumatic stress. As a team, we continually focus on self-care and resiliency in order to ensure we are taking a proactive approach to this."
This National Social Work month, let's recognize and celebrate the invaluable contribution of social workers in supporting health, mental health and well-being across complex systems and settings.
Back to all posts