Posted on
Steering Committee takes next step in Mission, Vision and Values review in Wolf Creek Public Schools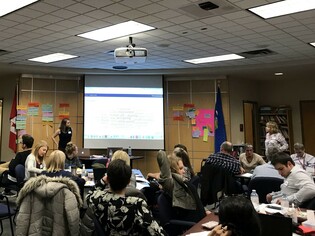 Wolf Creek Public Schools' Steering Committee on its Mission, Vision and Values met May 2 to take the next step in the process of examining and ultimately arriving at new Mission, Vision and Values statements that truly speak to WCPS and its direction for the future.
The Steering Committee analyzed the results of a Thoughtexchange, an online tool that allows for the sharing of ideas and the ability to look at and star other ideas, while diving deeper into concepts and themes emerging. The initial Thoughtexchange engaged staff, students, parents and the community at large, garnering nearly 2,000 participants.
The Steering Committee is a cross section of division stakeholders and their feedback will serve to assist the Board in its next steps. The Board will meet June 10 for further refinement of these emerging themes and feedback from the Steering Committee session.
Mission, Vision and Values May 2 2019 Steering Committee
Back to all posts