Posted on
Teacher Code of Conduct Survey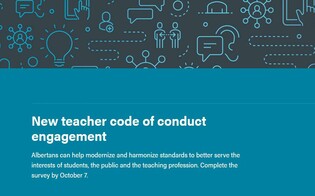 The Government of Alberta has launched a public survey regarding a new code of professional conduct for teachers and teacher leaders. The Government is encouraging teachers, teacher leaders, parents, students and all other Albertans to respond. 
The survey is now live on Alberta.ca.  
Currently, teachers who are active members of the Alberta Teachers' Association (ATA) follow the ATA Code of Professional Conduct, while all other teachers and teacher leaders who are not active members of the ATA are subject to a different set of professional conduct requirements found in the Schedule in the Practice Review of Teachers and Teacher Leaders Regulation. 
A new code of professional conduct is part of the provincial government implementing the Education (Reforming Teacher Profession Discipline) Amendment Act, 2022. This legislation was introduced on March 31, 2022, passed on May 4, 2022, and received Royal Assent on May 31, 2022. Part of this legislation came into force on September 1, 2022 while the remainder, including the new code of professional conduct, is proclaimed to come into force on January 1, 2023.
The Government of Alberta is calling the survey the next step in its work to reform the teaching profession's discipline process, communicating that a single unified code of conduct will modernize and harmonize standards across the province and better serve the best interests of students, the public and the teaching profession. 
Wolf Creek Public Schools encourages its staff, school parents and guardians, and students to provide feedback at the link shared above.  The survey will be open until October 7.
Back to all posts