Posted on
Terrace Ridge School Candy Cane Lane Fundraiser a Real Treat!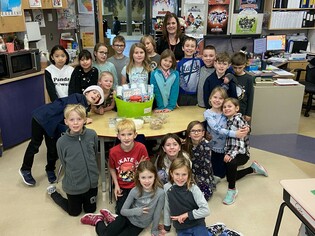 In Lacombe, Terrace Ridge School's inaugural Candy Cane Lane Fundraiser (before the Christmas break) was a resounding success. With all proceeds raised supporting students and families in need, the school raised over $2,400. $2000 went directly to Santa's Anonymous and Fill-a-Fridge in Lacombe.

Staff and community members donated a treat. Through early December, classes raised money through donations and bid on the chance to get the first choice of the treats donated. The highest bid got first pick, the second highest class getting second pick and so on. Final totals were tallied and students enjoyed the treats on Dec. 12.

Students in Mrs. Homer's Grade 1 class brought in over $260 and students Mrs. Jenkins' Grade 3 class gathered over $200.

"The Grade 7 Leadership Team showed remarkable organizational skills in promoting and running the event. This was an incredible opportunity to give back to our community." said Ms. Deborah Van Delden, school principal.

"We look forward to doing this again next year."
Back to all posts