Posted on
WCPS & ATA to recognize Substitute Teachers' Appreciation Week March 11 to 15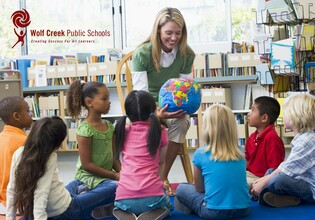 Hosting appreciation evening March 11 at ÉSLCHS
The dedication of substitute teachers will be the focus of an appreciation evening hosted by Wolf Creek Public Schools (WCPS) and the Alberta Teachers' Association (ATA) to kick off Substitute Teachers' Appreciation Week.
Substitute Teachers' Appreciation Week runs March 11 to 15 and is a week to recognize their efforts and commitment, in classrooms and schools throughout WCPS. The appreciation evening will be held March 11 at École Secondaire Lacombe Composite High School (ÉSLCHS), in partnership with the ATA, as an opportunity for the division and for colleagues to say thank you for the value substitute teachers add to a school division.
"Substitute teachers are absolutely crucial, as they come in and provide quality education in the absence of the permanent teacher," said Jayson Lovell, WCPS superintendent. "The versatility and adaptability of substitute teachers is a testament to the passion they bring to students and schools, and we are truly appreciative for all they do in Wolf Creek."
Substitute Teachers' Appreciation Week was proclaimed by the ATA's Provincial Executive Council as a way to draw attention to the excellent work being done.
"Substitute teachers play an essential role in maintaining the continuity and excellence of the learning process," said Rod Phillips, Professional Replacement Teacher Committee chair. "This week is an excellent way to celebrate those contributions and recognize their commitment to education."
WCPS has more than 240 substitute teachers, serving throughout the district.
Back to all posts