Posted on
WCPS bus driver places second at international bus drivers competition in Texas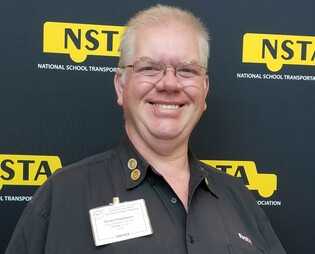 Dodo Freerksen thought he may finish in the Top 10, but a second place finish is something he didn't imagine. 
Freerksen, a bus driver with First Student, and serving Wolf Creek Public Schools out of Rimbey, competed in the 49th Annual School Bus Driver International Safety Competition July 21 in Austin, Texas, capturing a second place finish in the small bus category. Freerksen qualified for the event following a first place finish in the Alberta competition early in the summer. 
"It is quite exciting. At the awards before the announcement, everyone is very excited and the tension is real high. Everyone is hoping that they have done well," he said, adding that the announcement of a second place finish was a surprise. 
"I had high hopes for Top 3, but there is no guarantee."
Freerksen placed 17 points behind the first place winner, more than 120 points ahead of third place. 
The competition includes written tests before getting behind the wheel and testing their driving skills through a myriad of skills challenges. Those include a clearance challenge, where you have to navigate through an ever decreasing clearance, and new was a child check to ensure no child is left on the bus at the end of the route. 
Freerksen said he did spend time preparing for the event. 
"We have our own props, and in Rimbey we have a nice big parking lot at the community centre where we set up and we practice there," he said. "It is to improve my skills. It's how I started off 15 to 20 years ago." 
Despite competing for many years, this is the first time Freerksen has ever won a second place trophy.
The School Bus Driver International Safety Competition includes competitors from around the United States and Alberta, and has been held annually since 1971. 
Back to all posts