Posted on
WCPS Electoral Ward Review Public Meetings Scheduled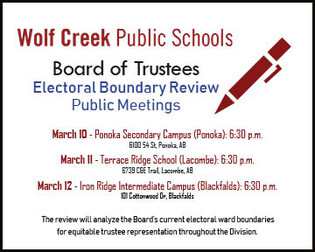 An electoral ward boundary review is underway in Wolf Creek Public Schools, and the Board of Trustees is reaching out to its community for input.
Three public meetings will be held to share information regarding the current ward boundary configuration, the reason for this current review and to look for feedback for the Board to consider as it proceeds.
At the sessions, there will be a short presentation on relevant data regarding population trends and an overview of the school division and its wards.
The public meetings are:
March 10 – Ponoka Secondary Campus (Ponoka): 6:30 p.m.
Located at: 6100 54 St, Ponoka, AB
March 11 – Terrace Ridge School (Lacombe): 6:30 p.m.
Located at: 6739 C&E Trail, Lacombe, AB

March 12 - Iron Ridge Intermediate Campus (Blackfalds): 6:30 p.m.
Located at: 101 Cottonwood Dr, Blackfalds
The review is in order to analyze the Board's current ward boundaries for equitable trustee representation throughout the Division.
Back to all posts