Posted on
WCPS September School Re-Entry Update #2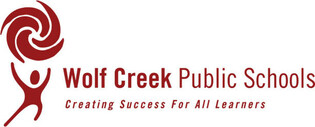 2020-2021 Plan for School Re-Entry 
Update #2
June 12, 2020
Dear Wolf Creek Public Schools' families, 
As we approach the last week of school across Wolf Creek Public Schools, I want to again thank all of you for your support this school year, as we have all adjusted to learning through the COVID-19 pandemic.
As you know, we are preparing for what the next school year will look like, with the safety of students, staff and families at the forefront of our minds and plans.
In that regard, Education Minister Adriana LaGrange addressed Albertans June 10, 2020 to share additional plans for what the next school year could be like for students. She reiterated the three (3) scenarios that we have previously shared with you. 
Those scenarios are: 
Normal school operations are able to resume
Schools are partially reopened, with some level of restrictions
Teacher-directed at-home learning continues
Minister LaGrange said that although it is still uncertain, as a province they are hoping and aiming for Scenario #1 (Normal school operations are able to resume) with additional health measures, and safety procedures in place, but admitted scenarios can change as local health needs dictate. 
As mentioned in the previous update letter from me to you on May 29, 2020, our priority remains the health and safety of our students, staff, and school families. Minister LaGrange indicated in her announcement that they will have a final decision on which scenario we are facing by August 1, 2020. It is important to note that any return to school will be done so under the guidance and direction from Alberta's Chief Medical Officer of Health and Alberta Education.
WCPS is creating comprehensive plans for each scenario, guided by Alberta Education's 2020-21 School Re-entry Plan, and its supporting documents regarding Scenario 1 and Scenario 2. We are committed to sharing our plans with you soon, so that you can assist us to best prepare for the upcoming school year. 
Please watch your email, your school and our Division websites and our Wolf Creek social media channels in the coming weeks, as we share more details on plans in our Division. We know, as you do, that the best place for students to learn is in a classroom with their peers, supported by an entire school community. It is there that they receive an outstanding educational experience, and it is what we are all hoping for heading into the next school year, as we plan for all eventualities. 
On behalf of all Wolf Creek Public Schools, I want to again thank you for all your support. We have missed the students these past few months, and continue to think of you and your families. Please remain safe and healthy.
Respectfully,
Jayson Lovel
Superintendent
Back to all posts