Posted on
WCPS' teacher Steven Prediger honoured with ABSA Zone 4 Edwin Parr Award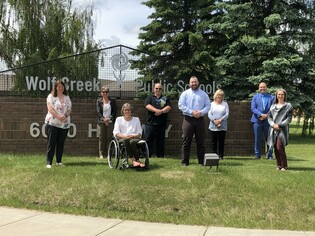 École Secondaire Lacombe Composite High School teacher Steven Prediger was selected the Alberta School Boards Association (ASBA) Zone 4 recipient of the Edwin Parr Award. Prediger is a first year Career and Technology Studies (CTS) teacher in Wolf Creek Public Schools and was selected for Zone 4 at the ASBA's online event June 16. Prediger was honoured by Wolf Creek's Board of Trustees at its meeting on June 18, celebrating the achievement. 
"Steven is a great example of the kind of passion there is for students in Wolf Creek, especially in CTS. He shows his students the respect one needs to have for others and for their profession, and models how valuable CTS programming and options are for students," said Pam Hansen, WCPS Board Chair. "We are immensely proud of Steven's well-deserved accomplishment and congratulate him, the school and the staff of École Secondaire Lacombe Composite High School."
Prediger said the nomination and receiving the award is a true honour. 
"I could not be more honoured to receive this award," said Prediger. "As I said in my interview with the committee, there is so much more happening in the fabrication shop than just welding. My goal from day one has been to shape and guide the next generation to become educated, literate, and compassionate citizens of tomorrow. I am proud to have the opportunity to be an educator, and will carry this with me throughout my career."
Alda Lovell, WCPS Director-People Services said that Prediger is a natural-born teacher. 
"He has a patient and gentle, yet firm presence. This coupled with his outstanding fabrication talents and life experience as a welder forms a unique skill set for a first-year teacher. Steven does not see himself as a teacher of Fabrication Studies, he sees himself as a teacher of students," said Lovell.  "He takes every opportunity to model for his students and guide them in what it takes to be a welder in the real world. He takes the business of creating future hard-working, contributing citizens very seriously. Steven is an outstanding, yet humble first-year educator, who captures the essence of Edwin Parr and his belief that a teacher should strive to go above and beyond bringing positive influence to the community."
Prediger was among eight nominees from around Zone 4 nominated for the Edwin Parr Award. He joins five other recipients from other ASBA zones around the province in receiving the award given to outstanding first year teachers.
Back to all posts