Posted on
WCPS welcomes Guangzhou exchange students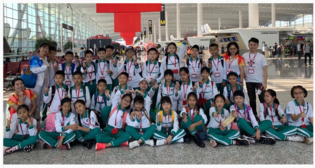 A group of 30 grade five students from Guangzhou, China arrived in Lacombe this month as part of the Wolf Creek International Learning program. 
Since the program inception just 14 months ago, over 150 students have been able to come to Canada to explore and take in Western culture. 
Mark McWhinnie, Assistant Superintendent of Wolf Creek Public Schools, says both the Chinese and Canadian students are able to learn a lot from each other during these visits. 
"What's unique about this program is the way we integrate it with our Canadian students. The Canadian students act is student ambassadors for our international guests," McWhinnie said. 
"They get to know them and get to interact with them through school and the excursion activities."
The kids spent three and a half weeks together, bonding through school and extracurricular activities. 
Throughout the stay, students will be taking time to explore Banff, Drumheller, Calgary and Edmonton. Of course, they will also explore and enjoy various facilities and events around Lacombe, including the corn maze and local museums. 
McWhinnie said one of the biggest challenges with the program is finding available host families, and educating them on what that really entails. 
"This is an area with not many international programs running, so not many families are not always familiar with being a host family and what that is about and what it involves," he said.
"We're always educating and making people aware of this experience and this opportunity . It really allows for diversity and cultural exchange in central Alberta, and many of the friendships that take place extend well beyond the program."
To find out more information on becoming a host family, head to wolfcreekinternational.ca.
At this point, WCPS has not confirmed any outbound trips for local students, but McWhinnie says they are looking at possibilities for the future. 
He added, "We appreciate the friendliness of the community of Lacombe in welcoming these students and their chaperones when we're out and about, and we look forward to welcoming another round of students in November."
Back to all posts