Posted on
New look for website!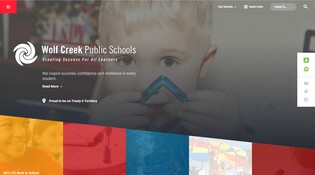 Wolf Creek Public Schools is excited to announce the launch of its updated website. 
The updated website at wolfcreek.ab.ca, powered through Rally, will create a much more effective and easy-to-use experience for families, staff, the community and those looking to join the Wolf Creek team!
On the home page, visitors will find the following: 
Our Schools menu: allows visitors to find a school by community, which will make it easier for a new family to find a Wolf Creek school in their community. 
Quick Links: helps staff and visitors access relevant resources both internal and external to the Division. 
I Want To... menu: allows for quick access to important places on the website, such as paying a school fee, registering for busing or applying for a job with the Division. 
Our traditional menu is still available as well, simply by clicking the three line grid in the top left corner, that will open up access to department pages, as well as pages of resources for families, students, First Nations, Métis and Inuit Success, and how to contact us. 
As one scrolls through the website, they will also see that a few things follow them along the way. That includes the top menu items, but also:
The status alerts, such as bus status (which indicates whether a bus is late, cancelled or on time. One click on the bus icon takes you to the bus status page which shows the current status of all buses in Wolf Creek. 
The social media icons also follow you, so you are one click away from connecting with Wolf Creek via Facebook, Twitter and YouTube. 
Wolf Creek's website will also keep visitors up-to-date with the lastest news and calendar events, as well as important information such as our Assurance Plan, and Mission, Vision and Values. 
The new website maintains Wolf Creek's burgundy and grey branded colours, but we have also incorporated the colours of the Cree medicine wheel, as we recognize and honour First Nations Metis and Inuit peoples. 
These colours are prominent on our home page, as a way to share with visitors links to important programming, such as Bright Futures Play Academy and Wolf Creek's Wisdom and Guidance Committee. 
As Wolf Creek plans to reach out to its school communities this year for various consultation opportunities, these prominent links will serve as the portal for you to click on, learn more and share your voice. 
The changes came about through feedback and planning of a website refresh committee working closely with Rally over the past number of months. We hope these changes will enhance the online visitor experience. Please check out our updated website at wolfcreek.ab.ca
Back to all posts