Posted on
Riley Quance appointed assistant principal at ÉSLCHS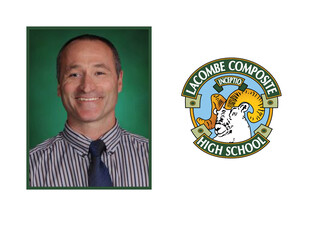 Wolf Creek Public Schools (WCPS) is pleased to announce the appointment of Mr. Riley Quance as assistant principal at École Secondaire Lacombe Composite High School (ÉSLCHS).
"Riley has been a great addition to the leadership team at ÉSLCHS. We are confident that his experience and passion will continue to have a real impact on students, staff and families in Lacombe," said Sonja Dykslag, assistant superintendent of People Services. 
Riley has served in Wolf Creek Public Schools since 1999. This past year, Riley was an acting assistant principal at ÉSLCHS. Prior to this, Riley was the assistant principal at Ponoka Secondary Campus for three years and before that, he held admin positions at Mecca Glen School near Ponoka, ÉSLCHS & Alix-MAC School in Alix.
"I am excited to be a part of this amazing school," said Quance. "I look forward to working with the students, staff, and community as we continue to build an environment that fosters success for all."
Quance holds a BEd from the University of Alberta and a Masters in The Art & Science of Teaching from Wilkes University.
Back to all posts