Posted on
Summer Student Positions Available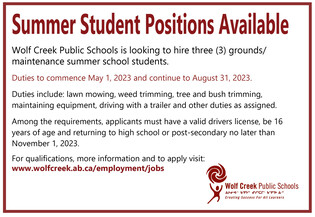 Wolf Creek Public Schools is looking to hire three (3) grounds/maintenance summer school students. 
Duties to commence May 1, 2023 and continue to August 31, 2023.
Duties include: lawn mowing, weed trimming, tree and bush trimming, maintaining equipment, driving with a trailer and other duties as assigned. 
Among the requirements, applicants must have a valid drivers license, be 16 years of age and returning to high school or post-secondary no later than November 1, 2023. 
For applicant requirements and to apply visit: www.wolfcreek.ab.ca/employment/jobs
Back to all posts