Posted on
Abbey Cruikshank appointed principal of Clive School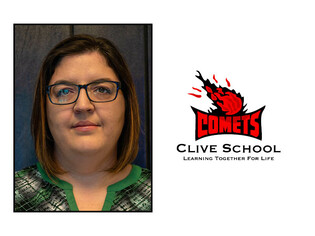 Clive — Wolf Creek Public Schools (WCPS) is pleased to announce the appointment of Mrs. Abbey Cruikshank as principal at Clive School, commencing for the 2023/2024 school year. 
Mrs. Cruikshank has served as assistant principal at Clive School since 2021. Before that she held the roles of Wolf Creek ILS coordinator, as an Inclusion Coach for Ponoka Secondary Campus, Wolf Creek Academy and Lacombe Outreach School and as a teacher at Wolf Creek Academy, Clive School and at a number of schools in Saskatchewan.
"Abbey has been a tremendous fit at Clive School. Her leadership and ability to work collaboratively have been a great benefit to the staff, students and families of the community," said Sonja Dykslag, WCPS assistant superintendent of people services. "We are confident she will meet this new challenge with the same passion and excellence she has shown."
Cruikshank holds a BEd (2003) from the University of Regina and an MEd in Leadership and Administration (2020) from the University of Alberta.
"I'm proud to be part of Clive School, first as an assistant principal, and now principal, and appreciate the relationships I've built over my time here," said Cruikshank. "I look forward to continuing all of the great work with all the amazing staff, students and community."
Back to all posts