Posted on
Dean Pilipchuk appointed principal of Eckville Junior Senior High School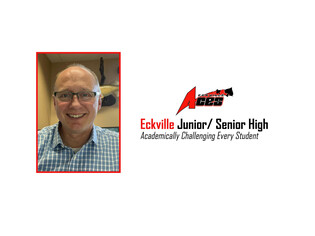 Wolf Creek Public Schools (WCPS) is pleased to announce the appointment of Mr. Dean Pilipchuk as principal at Eckville Junior Senior High School, commencing for the 2023/2024 school year. 
"We are excited to have Dean join Wolf Creek Public Schools as principal of Eckville Jr/Sr School. He is a dynamic leader with a wealth of experience in the rural school setting and he has a passion for student success. He will be a positive impact for the school community and the school division," said Sonja Dyklag, assistant superintendent of People Services.
Pilipchuk joins Wolf Creek from Wild Rose School Division where he has served since 2012 as the principal of Caroline School. Prior to his principalship role, Pilipchuk was the assistant principal at Caroline School.  
"I am tremendously excited and honoured to assume the role of principal at Eckville Junior/Senior High School and to become a member of the Wolf Creek Public Schools' team," said Pilipchuk. "Having been raised on a farm in northeastern Alberta, when the opportunity arose to join EJSHS and the Eckville community, I saw my chosen career and my passion for rural life wrapped together in one."
Pilipchuk has a Bachelor of Education degree from the University of Alberta with a major in biological sciences and a history minor; he also has a Master of Education Leadership from the University of Seattle. Pilipchuk assumes the role as principal as Ed Coles takes the principalship of Iron Ridge Secondary Campus in Blackfalds.
Back to all posts