Posted on
ÉSLCHS unveils goats and celebrates grand opening of Roof for Kids project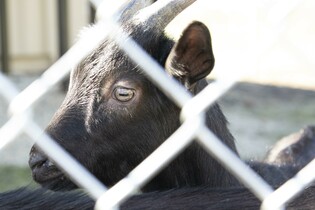 École Secondaire Lacombe Composite High School (ÉSLCHS) welcomed the newest kids to the schools, as part of its latest Ecovision project. 
ÉSLCHS, with community members, sponsors, staff and students hosted a grand opening of the CO-OP Community Spaces Roofs for Kids Project, Sept. 30. The project brings in four goats from Rock Ridge Dairy that will be used in a new goat/sheep green certificate program for students, helping to reduce stress and anxiety It also includes a rooftop garden that will host indigenous pollinators with medicinal and edible benefits. The garden will provide food and habitat for local pollinators and bees kept at the school, while the edible items from the garden will provide food for the school's food programs, volunteers and community. 
The idea for Roofs for Kids began three years ago through a conversation between student Darcy Cunningham and teacher Steven Schultz. 
"It was hard to picture that only he and I would be able to do it. So, we put out the message to other students that we had this great new idea and to see if any other students, and EcoVision, Agriculture and Beekeeping students would want to participate in it," said Cunningham. "It took a lot of teamwork to get that far, with every new step we had to almost rework the project as we thought of new things to add and how to add them. It took a lot of hard work. I'm glad I am here today and that the project is going ahead, and that I could be a part of it."
Principal Val Yaremchuk said the project that converts a sea container into a goat barn and living rooftop garden, with solar power and rainwater collection is truly innovative. 
"The benefits of this program are immense. First of all it has provided a hand-on opportunity for students to develop their leadership skills as they planned, designed and built the Roof for Kids project," she said. 
The program has received a lot of community support through local sponsorship, including $50,000 from Co-op, through Co-op Community Spaces. 
"I heard it was once said in a science class in this school that words without action are meaningless. We are here today to celebrate students, teachers, community members, and staff from Wolf Creek that really role model what they say by their actions," said Wolf Creek Public School's Trustee Kelly Lowry. "EcoVision projects keep evolving as students research and learn their passions. Change happens one student at a time and one project at a time."
Schultz said he is proud of his students and the community sponsors for helping to see this vision and dream come to fruition. 
"I am so proud of my school, I am so proud of my students, I am so proud of our community and so proud of our sponsors and individuals' contributions," said Schultz. "We wanted this to be a school-wide endeavour, so not only could people benefit from the new green certificate program but we wanted all the students to put input into this fantastic opening ceremony."
Part of that ceremony was unveiling the goats and the names given through a naming contest. 
The goats are: Vincent Van Goat, Gandalf the Goat, Cracker Jack, and Crumpit.
Roofs for Kids
Back to all posts