Posted on
Irene Donaldson Appointed Director of Inclusive Learning Services at WCPS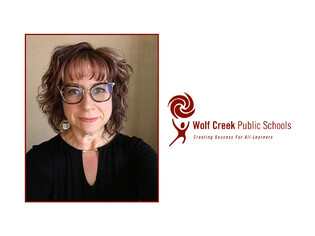 Ponoka — Wolf Creek Public Schools (WCPS) is pleased to announce the appointment of Ms. Irene Donaldson to the position of Director of Inclusive Learning Services, at Division Office in Ponoka.
Ms. Donaldson has served in WCPS for 20 years, and for the past two years she has been a coordinator with Inclusive Learning Services. Prior to that she served as Assistant Principal, Inclusion Coach and classroom teacher in Blackfalds.  She also has experience teaching in Venezuela and at the Jean Baptiste Sewepagaham School in Fox Lake. Donaldson holds a Master of Education in Leadership from City University in Seattle, as well as a Bachelor of Education from the University of Calgary and Red Deer College.  
"I am thrilled to have Irene step into the position of Director - Inclusive Learning Services," said Danica Martin
Assistant Superintendent - Inclusive Learning Services. "Irene has done exceptional work in her current role as coordinator and I am confident that her passion for doing what is best for all students, her exceptional work ethic and skill set, and her ongoing commitment to lifelong learning will serve her well in this new role."
"It is an honour to continue working with the Inclusive Learning Services team in the role of Director next year," said Donaldson. "I look forward to supporting the students, parents, and staff of WCPS as we work together to ensure the success of all students."
Back to all posts