Posted on
Joslyn Snow Memorial Project receives grant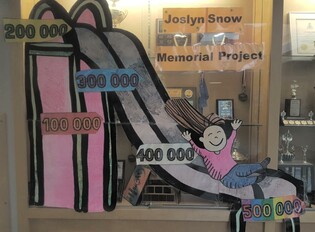 The late Joslyn Snow had a dream and a vision of building a new playground that would not only benefit Bentley School, but the entire community as well.
It looks like Snow's dream has moved one step closer to reality. The Joslyn Snow Memorial Project Committee is excited to announce that they have received a grant from the Community Facility Enhancement Program (CFEP) in the amount of $125,000 making the grand total raised to date $458,938.44.
"We're close," said Bentley School principal Lane Moore. "We have an amazing committee, they've had some really great ideas."
Due to some tariffs imposed this winter, the cost of the project went up and the end financial goal was increased to $525,000.
The playground equipment has been ordered and the committee is focused on raising the last $65,000 in order to break ground this spring.
Additional fundraising events are planned for this spring and the committee is still actively looking for sponsors.
Anyone interested in helping the committee reach its final goal may contact the school at 403-748-3770.
Snow envisioned a playground which could be enjoyed by not only students, but other children from the community.
Plans include a new school playground and a new sport court for the older students to enjoy.
"We really wanted to do something for Joslyn", says school principal Lane Moore. "This all started as a legacy to her."
Plans were also mentioned to create a large enclosed sport court for the high school students. This court would include sports such as ball hockey, pickle ball, and basketball.
Moore was also hopeful about fixing up the running track so it could be used as grounds for not just students but for everyone.
"We really want this to be a place for all people to enjoy." Donations have also been coming from private and corporate funds as well as other businesses in Bentley who have been helping out with some of the fundraising events. Moore sees this new playground as not just something that benefits the school but the entire town of Bentley as well.
"This was one of Joslyn's last wishes, that we did something for the community. We are expanding on it and it's a chance to dream big for a big community."
Credit: Treena Mielke/ Rimbey Review
First published in the Rimbey Review Feb. 12, 2019
Back to all posts