Posted on
Let's Hear From You on the Education Results Survey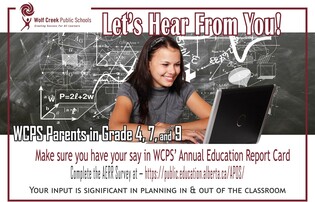 Let's Hear From You!
The Annual Education Results Report (AERR) Survey is for Wolf Creek Public Schools parent/guardians in grades 4, 7 & 10. We encourage you to participate in Alberta Education's annual survey sent out in January and February.
This survey is crucial for division and school planning. The results are used to further growth, identify areas for focus, and share success in each of our schools!
Please go to: AERR SURVEY to complete the survey, or contact your school principal if you have any questions.
Back to all posts