Posted on
Media Release: Wolf Creek Public Schools and Clearview Public Schools Enter Historic Agreement to Support Student Success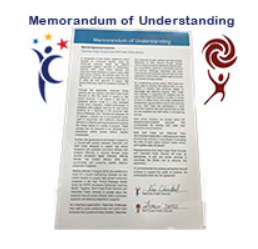 for Immediate Release: June 21, 2018
On Wednesday, June 20, 2018, a partnership meeting took place between school board trustees and senior leaders from Wolf Creek Public Schools and Clearview Public Schools. This historic agreement focuses on providing flexible curriculum delivery using the Enhanced Learning Model supported by diploma preparation supports. These supports focus on high school students and will be provided in collaboration between Wolf Creek Public Schools and Clearview Public Schools to support nearly 2000 high school students. Senior school division leaders along with school trustee representatives spoke about how this shared partnership will benefit students in both school divisions moving forward.
"Wolf Creek is truly honoured and excited to partner with Clearview Public Schools to enhance new and innovative learning opportunities," said Jayson Lovell, Superintendent of Wolf Creek Public Schools. "We look forward to great success for students and staff."
Peter Barron, Superintendent of Clearview Public Schools also stated, "This partnership leverages the skills of two school divisions for the benefit of all of our students. Small rural schools face unique challenges, and Wolf Creek's model offers significant potential advantages to address our needs. Our two school divisions have a history of working together, and this agreement is a natural next step."
The Enhanced Learning Model (ELM) is a "made in Wolf Creek" approach to supporting High School ReDesign needs for students in Grade 10-12. This has been particularly useful at small rural high schools to support the delivery of curriculum but has also been utilized at larger high schools to support flexible course delivery. Utilizing this approach requires a shift from a traditional delivery model to a more facilitated model which integrates multiple technologies to enhance and support learning for high school students as a response to the provincial High School Redesign work.
"WCPS Board is super excited about the partnership with Clearview School Division and our ability to offer the Enhanced Learning Model and diploma prep support for your grade 10 - 12 students," commented Lorrie Jess, Board Chair of Wolf Creek Public Schools. "This model has provided strong support for our students. We wish your students much success!"
Ken Checkel, Board Chair of Clearview Public Schools acknowledged, "We had a need. Wolf Creek had a program. It is wonderful that we can fill that need for our students and staff with our great neighbouring division."
These courses, which were developed by teachers within Wolf Creek over the past two years, are designed not to replace a teacher, but to enhance student support. As students access the courses the teacher facilitates the course delivery in conjunction with traditional instructional delivery in a flexible learning environment meeting the unique needs of a variety of students. Students can take the courses over a variety of time frames to meet their learning needs. Teachers using these materials are still responsible for the achievement of the outcomes, remediation, additional instruction, clarification, deepening, accommodations, extension activities and marking.
During the two year implementation of the Enhanced Learning Model Courses in conjunction with diploma preparation strategies, significant increases have been made to high school completion results in Wolf Creek; resulting in Clearview Public Schools now joining together with Wolf Creek Public Schools to offer this model of support to high school students.
Mr. Korey Von Kuster has been appointed as the Learning Services Coordinator to work collaboratively between Clearview Public Schools and Wolf Creek Public School. Starting officially in August 2018, he will work within both districts to support the High School Redesign Model using the WCPS developed Enhanced Learning Model. Mr. Von Kuster was selected from a broad range of strong applicants from across Alberta and BC.
Korey Von Kuster, Learning Services Coordinator between Clearview Public Schools and Wolf Creek Public Schools, shared, "I am honoured to be part of the partnership between Clearview and Wolf Creek School Divisions that will ultimately support all of our students. I am looking forward to working with more staff in the coming days and months as we embark on this unique journey of learning, teaching and growing."
This shared-staff position between Clearview and Wolf Creek is designed to support high school programs with equitable curriculum delivery and program offerings in schools. Through using teacher developed digital materials, Mr. Von Kuster will be assisting teachers with offering flexible, rich content delivery while also coordinating and analyzing specific diploma preparation supports.
Together, Wolf Creek Public Schools and Clearview Public Schools are excited about the supports that Korey Von Kuster will assist schools within curriculum supports and diploma preparation supports.
"Korey's background as an original content creator of the resources within the Enhanced Learning Model, his previous work with video conference programs, his history of strong student academic results in coursework combined with his effective leadership skills as a school administrator will all be great assets to staff in both school divisions. We look forward to this partnership agreement and the benefits it will provide to students in both WCPS and CPS," states Mark McWhinnie, WCPS Assistant Superintendent.
As a learning organization, Clearview challenges their staff to grow professionally and works hard to ensure the success of every student. As a rural district, Clearview understands some of the learning challenges associated with small rural schools yet embraces and promotes the rural experience while finding creative ways to ensure the success of every student.
As a neighboring school district, Wolf Creek has been open to working with districts from all over Alberta in sharing best practices related to technology and learning supports. Wolf Creek also believes in supporting all students.
-30-
For more information, please contact:
Jayson Lovell, Superintendent, Wolf Creek Public Schools
Mark McWhinnie, Assistant Superintendent, Wolf Creek Public Schools
Ph: 403.783.3473
Peter Barron, Superintendent, Clearview Public Schools
Brenda MacDonald, Deputy Superintendent, Clearview Public Schools
Ph: 403.742.3331
To view this media release in Google format and view pictures CLICK HERE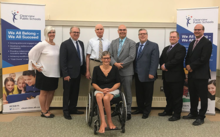 Pictured from left to right, back to front:
Deputy Superintendent CPS, Brenda MacDonald, Superintendent CPS, Peter Barron, Board Chair CPS Ken Checkel, Superintendent WCPS Jayson Lovell, Assistant Superintendent WCPS Mark McWhinnie, Director of Learning WCPS Sean Lougheed, Coordinator of Learning CPS-WCPS Korey Von Kuster, Board Chair WCPS Lorrie Jess
Back to all posts