Posted on
Mr. Cody Baird appointed acting principal at Ponoka Secondary Campus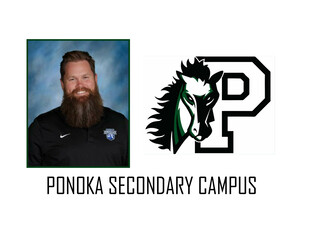 Wolf Creek Public Schools (WCPS) is pleased to announce the appointment of Mr. Cody Baird as acting principal at Ponoka Secondary Campus.
"Cody has a long history with Wolf Creek, having attended K-12 schooling in Lacombe, and commencing his teaching career with us at Ponoka Secondary Campus (PSC) in 2011, where he was also the Wolf Creek Edwin Parr nominee," said Corrine Thorsteinson, assistant superintendent - people services. 
Baird was appointed assistant principal in 2019 at PSC. His extensive coaching background coupled with his compassion for students and staff has built a solid reputation for affiliative leadership with a focus on strong relationships. 
"We are confident that Cody will leverage this to lead at PSC next year," said Thorsteinson.
"I am extremely honoured to take on this role within PSC, as I have enjoyed working with my colleagues and building relationships with our students over the years, first as a teacher and then as an administrator," said Baird. "I have a passion for school leadership, and look forward to continuing on our school success in the coming year." 
Baird holds a BEd from U of A and is currently completing his Masters degree with City University. Baird will begin his role as acting principal for the 2022/23 school year, as Kathy McTaggart takes a one-year leave of absence.
Back to all posts