Posted on
Drivers excel at Bus Road-e-o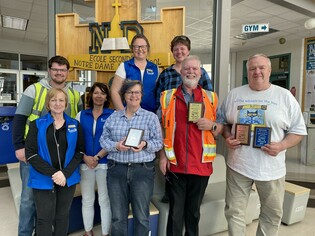 Wolf Creek Public Schools had three contestants compete at the Local School Bus Road-e-o, May 7 at Notre Dame High School in Red Deer, Alberta. 
Twenty One contestants, representing five school bus companies, navigated 11 obstacles in a competitive skills course which included: country turn around, right turn, student pick up, railroad crossing, parallel park, curb park, diminishing clearance, left turn, offset alley, straight line and ending with the stop line. 
Drivers were excited to have the opportunity to get together following a two-year delay and were enthusiastic during the walk around to get familiar with the course layout. Eleven rookie and 12 veteran drivers successfully completed the course with the help of 30 judges that acted as preparation and set up crew, start line helpers to orientate drivers to the bus, judges to score drivers performance at each event, runners to collect score sheets, score tabulators to determine the top drivers, volunteers preparing food, and family and public supporting their competitors.  
Wolf Creek Public Schools, Chinooks Edge School Division, Red Deer Catholic School Division, Prairie Bus Lines and Siksika First Nation will have competitors moving forward to the Provincial School Bus Roadeo June 4 in Nisku.
Please take a moment to congratulate Dodo Freerksen, Sheila Talbott and Jerry Witvoet as the Wolf Creek competitors moving forward to the Provincial competition.
2022 Bus Road-e-o
Back to all posts