Posted on
WCPS nominates Rimbey Jr/Sr High School Teacher for Edwin Parr Award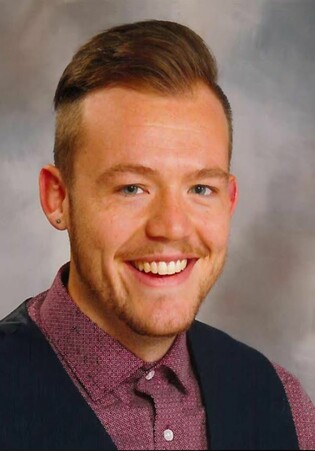 His enthusiasm, energy and motivation to teach are ways Wolf Creek Public Schools' (WCPS) 2019 Edwin Parr Teacher Award nominee shows his passion for education.

WCPS Board of Trustees nominated Kolt Bell, Rimbey Jr/Sr High School teacher as its nominee for the 2019 Edwin Parr Teacher Award, which is awarded to a first-year K to 12 teacher who has taught in an Alberta school jurisdiction, which is a member of the Alberta School Boards Association (ASBA).
"My experience at Rimbey Jr/Sr High School has been incredible and I am so thankful for all of the staff who have helped me throughout the transition of becoming a first-year teacher," said Bell. "I now know that teaching is one of the most exciting and rewarding experiences and I know this is where I am meant to be."
Bell brings an outstanding skill set to the classroom, which contributed to his nomination.
"He has a genuine enjoyment of his students and his teaching," said Alda Lovell, WCPS director of people services. "He is an enthusiastic, extremely capable educator whose students are engaged in hands-on experiences and instruction, and in projects that encourage students to deepen their understanding, and a learning community where students are comfortable taking risks and seeking assistance."
Additionally, Bell dedicates a tremendous amount of time towards building relationships with his students outside of class, through coaching basketball and badminton, and in leadership in the school's weight training program.

"His players and their parents have often commented on the tremendous job he has done in both teaching boys basketball and in carrying themselves in a respectful manner on the floor," said Tim Lekas, Rimbey Jr/Sr High School principal. "It is hard to limit the descriptors of Kolt's relationship building skills; he is empathetic, positive, supportive, enthusiastic and genuine in his interest to get to know his students and form strong relationships with them."
The Edwin Parr Award is annually given to one first-year teacher in each zone of ASBA, who has demonstrated excellence in teaching. Each school division nominates one candidate, and then a committee selects one of the candidates to receive the award for the zone. The Edwin Parr Award recipients are recognized at the ASBA Fall General Meeting.
Back to all posts